Equalist.org is a brand new born site that aims to be devoted to true equality between men and women.

Note that Equalist.org does not aim to be a feminist site, there are a multitude of such sites already.

Instead Equalist.org aims to look at both sides of gender issues, and importantly aims to recognize the sexism that exists against men, which is so often swept under the carpet.
Our Mission
The goal of equalist.org is to promote better understanding between men and women, and to fight for men's or women's rights when there is a clear issue of sexism against either gender.

Equalist.org would like to see a fairer world and true equality between men and women.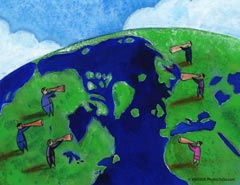 Organization News
Equalist.org is born today, quietly and uneventfully. I really hope I will be able to give this site some time to build it into something worthwhile.